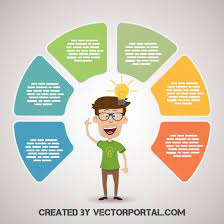 Last Updated on February 6, 2023 by hassan abbas
Infographics have taken the world by storm. With their stunning visuals, compelling facts, and easy-to-read format, it's no surprise they've made a prominent presence online. Besides their unique design, infographics have become a favorite for many content marketers because they help readers learn complex information efficiently yet effectively.
However, infographics can be challenging to create. Besides creating a visually appealing infographic, you also have to make sure that the content is just as good. Content and visuals go hand in hand when it comes to infographics. One without the other will result in a lackluster infographic, and all your efforts won't be worthwhile.
The hardest part about creating an infographic is usually the first stage— ideation. The idea behind an infographic is crucial, so you must spend enough time and effort in the ideation phase to ensure that your infographic has a strong foundation.
Finding ideas, in general, can be a struggle, especially if you hit a wall and don't know where else to go. In this article, we'll list five ways to find infographic ideas to ensure that your infographic creation process won't be too complicated.
Indulge yourself with references.
References are excellent sources of inspiration. It's also great to figure out what you want and learn from examples. When creating infographics, we always begin the process by looking for references and collecting as many as possible. It's one of the essential steps in infographic creation.
Once you have a collection of references, you can pick and choose which ones are closer to what you're looking for. Having loads of references is great for gathering information and figuring out what you would like your infographic to be. However, once you have a clearer idea of what you would like, it's recommended that you start filtering your references.
Look at studies and research.
Most infographics are based on data and statistics. So, where else would you find these compelling data other than in studies and research? The best part about finding data and statistics in studies is that you won't have to question their credibility. Most likely, they're legitimate.
Getting your information from studies can also give an edge to your infographic. Most of these data can be a bit challenging to understand. By visually translating them, it can be easier to understand and digest.
Observe the trends.
You don't have to look too far. Current trends or news can be an excellent source of ideas for infographics. For example, if gas prices are currently trending, you can create an infographic depicting gas prices rising over the years.
You can also look to the past and observe trends from years ago to make an infographic based on historical data.
Repurpose your existing content.
If you have existing content you'd like to spruce up, you can turn them into an infographic. This is an excellent way to repurpose and make the most of your content. You can even share them on social media and other platforms.
Written content performs well on the web, but combining them with imagery such as infographics will add more value for your visitors and increase engagement. Not to mention, infographics are highly shareable and can be shared among different platforms.
Do keyword research.
Lastly, do keyword research religiously. When we create infographics, we don't just create based on what we feel like making. We depend on the type of content that is in demand. A sure way to find out what your audience is looking for is by doing your due diligence and keyword research.
You'd be surprised with what types of content are currently in demand. Doing keyword research is helpful because it gives you ideas on what types of content will perform well, what the audience wants to see more of, and a rough picture of what you should be creating.
Wrapping Up
Finding an idea for an infographic can be a struggle. If your brainstorming session always seems to end up empty, it might be time to try something new. Instead of pondering on why you aren't able to come up with any ideas, try to indulge yourself with references, look at studies and research, observe the trends, repurpose your existing content, and do some keyword research.
Apart from this, if you are interested to know more about Life Insurance Lead Sources for Health & Wellness Industry Providers then visit our Business category