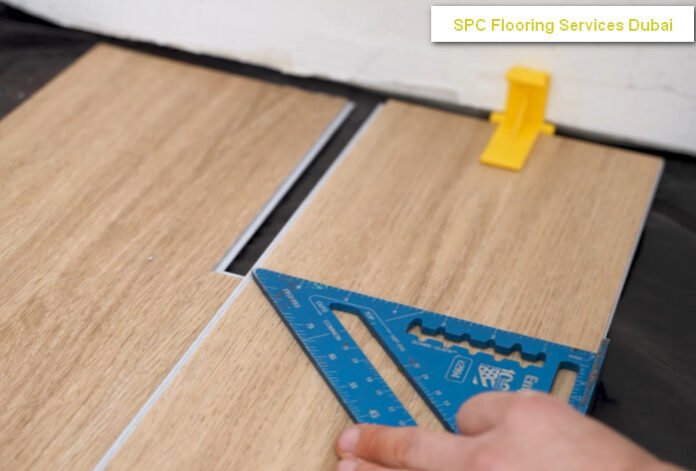 Last Updated on March 4, 2023 by admin
SPC flooring is an upgraded or improved floor treatment that is manufactured utilizing the latest technology. This dimensionally stable flooring is getting more and more popular because of its ultra features. SPC is renowned to be the evolution and upgrade of luxury vinyl flooring.
SPC flooring provides the sleekest appearance to the floors of your places and gives a luxurious feel while you walk over these floors. Installing these floors in your places strikes a distinguishably beautiful outlook and creates a visually elegant appeal. Like everything has its pros, so do the cons. In this article, we are going to discuss the advantages and disadvantages of SPC flooring for your better understanding.
First of all, let us familiarize you with the manufacturing and composition of SPC flooring.
What Is SPC Flooring?
SPC flooring, with its desirable traits, is perfect to install in residential and commercial places. This flooring is commonly renowned as the rigid core luxury vinyl flooring which is one of the most durable flooring treatments. This stone plastic composite or stone polymer composite flooring makes up the core of the floors. The core is made from stabilizers and limestones that give a perfect finish to floors. It comes with different layers inducing the SPC core, UV, wear, bottom, and decorative layer.
Fixing Expert is a famous interior design & decor services provider in Dubai, UAE. They offer specialized services of SPC flooring in Dubai.
Pros Of SPC Flooring
Here's the list of the advantages of SPC flooring:
1. Wide Range Of Style
The top advantage of having SPC flooring in your home and offices is that it is available in an enormous range of soft color tones and diverse styles. The variation in styles gives you a bundle of choices to opt for your places.
You can get to decide the style, pattern, and color that you like for the ornamentation of your places. This versatility can give you the best opportunity to select the color matching the rest of the room's interior or furnishing elements like furniture.
2. Real Wood-Like Design
The other significant thing that makes the SPC flooring popular is its timeless mimicking look with the beauty of nature, wood. The wood-like texture and layout make it more appealing and the interesting thing is that you can't tell the difference between SPC flooring and real wood when you look from a greater distance.
While real wood is extremely costly to have in your home, you can satisfy your style requirement by installing this flooring in your domestic places. This is the ideal solution for people who can't afford to install hardwood floors as they are costly to purchase.
3. Budget Friendly
Regardless of having a considerable amount of budget in their pockets, people tend to buy inexpensive products. So, you will be pleased to know that these floors are way cheaper to install than other flooring types.
The installation process of SPC floors is also more seamless and inexpensive than hardwood floors. You can also DIY installation for these floors and can save labor costs. It won't be wrong to say that this flooring is the perfect substitute for hardwood.
4. Can Sustain High Traffic
Another core benefit of having this flooring in your house is that it can withstand heavy foot traffic and still sustains its outlook like before. This flooring is ideal for active places and homes with joint or bigger families. Because of its excellent dimensional stability and multi-layers, it can stand the test of time painlessly.
5. Don't Get Damaged Or Scratched Easily
Besides being durable & long-lasting because of its finest manufacturing, this flooring can last up to 20 years. If well-maintained, the floors keep their long-lasting appearance for a lifetime. The top benefit of having these floors is that they don't get easily scratched because of their solid and composite composition. Fiberglass SPC is heavy-duty flooring that doesn't get damaged with intense use.
6. Sound-dampening & Water Or Stain Resistant
SPC flooring is not completely soundproof but it softens or absorbs the walking sound to some extent. The noteworthy advantage of these floors is that the protective wear layer can help to resist spills and stains. This flooring resists the water sipping into the surface and because of this feature you can install them in wet areas like the bathroom, kitchen, and laundry areas.
7. Easy To Maintain & Clean
In this era, where people seek convenience in everything, this feature is the need of the hour. After having SPC flooring in your home, all you have to do is to sweep and mop your floors periodically and it will be enough to keep your floors cleaned. If you found any piece broken and want to replace it you can change it easily which counts in the easier maintenance of these floors.
Cons Of SPC Flooring
Now let's explore some demerits of having these floors installed in your places.
1. Difficult to Remove
The first and foremost disadvantage of having these floors is that once you install them in your places, you cannot remove them easily. It is because it is installed using adhesives and when trying to eliminate the tiles, it creates a mess.
2. No Resale Value
If you are going to resale your house after installing these floors, unfortunately, it won't add value to the property, unlike hardwood floors.
3. Sharp Objects
You cannot use sharper objects like knives or slide heavy furniture over these floors because it can cause dents and scratches. To avoid this, you can use ornamental elements like rugs and carpets.
4. Unable To Be Repair
SPC tile or planks can be replaced after you install them in case of damage, however, low-quality SPC can't be repaired when worn or torn out once, and you can't do refinishing work over them.
To Close Up!
Having SPC flooring in your interiors can be more beneficial as these floors have good dimensional stability and can withstand heavy foot traffic easily. Besides that, it is easier to maintain, clean, and install these floors in your place. If your concern is longevity and durability, go for this flooring. However, these floors don't offer resale value, and it is quite difficult to repair them once you install them in your interiors.