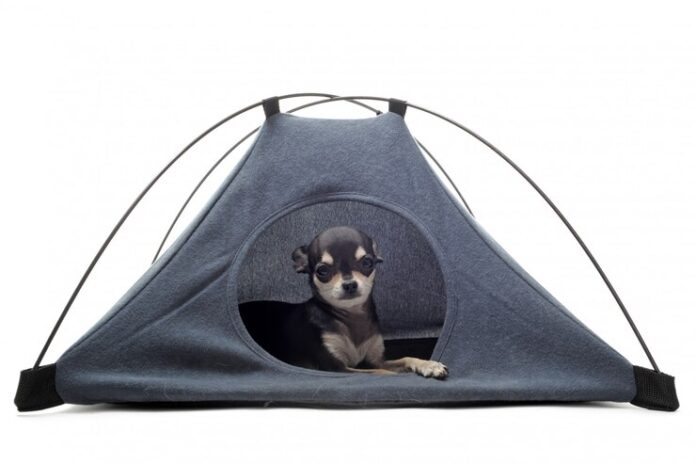 Last Updated on February 18, 2023 by Tabraiz
Pets are a man's best friend! They provide comfort and physical and mental support to all. Likewise, owners should also take care of their fur buddies. One thing they can do is buy Igloo dog bed for them.
You will find many categories of dog beds, but the igloo ones take the lead. The best pet bed igloo is an all-in-one package for pets. But first, let's check why choosing the right dog bed is essential.
The Importance of a Dog Bed
Like humans, animals also need rest to keep their bodies healthy. What could be a better space to rest than a comfortable bed?
The musculoskeletal system of dogs also requires supportive cushions. This need increases as your buddy ages. Dogs can develop joint issues like arthritis and muscular problems. Having a foam to live and rest after playing the whole day can help your dog's muscles relax, keeping them healthy and functioning normally.
A personal bed also gives the feeling of safety to your dog. It provides them feeling of a private space to peacefully unwind after an interactive day. Many different kinds of beds are found on the market for different breeds. However, igloo beds are quite popular nowadays for being versatile and comfortable.
Why choose an igloo dog bed?
Like igloos in snowy regions, igloo beds are cave-like that surround the pet from roof to bottom. They are round or usually triangular but can also be found in square shapes. This accessory comes in various colors, patterns, and sizes for all dog breeds.
When looking for a dog bed, you look for comfort and style. The best pet bed igloo excels in both these qualities. These are unlike other doghouses in terms of extra comfort and luxury. Your dog will feel secure in a fully cave-like space they can call theirs.
Igloo houses are covered from the top, giving dogs an extra sense of safety. Moreover, they are incredibly comfy and warm and are ideal for cold weather. It keeps your fur baby warm and relaxed during cool breezes without feeling claustrophobic.
Types of Igloo Dog Houses
Like all other accessories, these beds also come in different categories. We have explained the four distinct ones below.
· Igloo shelters
Igloo shelters are available in various sizes for all dog types. They have a round base and a rectangular top and are specifically affordable and lighter to carry. Most of these beds come with waterproof material, making them easy to maintain.
· Hand-made
Hand-made igloo beds have square bottoms with varied roof and wall shapes and sizes. They come in different fabrics, the ideal ones being wood, plastic, or vinyl.
· Straw dog bed
If you want an affordable bed, this is probably the best option. As the name suggests, straw beds are made up of straws. However, the roof and sometimes the walls are made of aluminum or vinyl. These are waterproof, have ideal insulation, and provide the best benefits for the money.
· Cushioned igloo bed
They are almost identical to standard igloo beds but have extra cushions for comfort and luxury. They come in different base shapes, but the roof is always doomed. For extra softness and comfort, these beds are ideal.
Cleaning an igloo dog bed
Its cave-like structure confuses people on how to wash them. Best Pet Bed Igloo comes in easy-to-wash fabrics.
Machine wash
Putting the igloo bed in a washing machine is probably the easiest and most efficient way to clean it. Some beds have machine-friendly fabric that retains its quality.
Home wash
If you don't have a big enough washing machine, you may wash the igloo bed by hand using a detergent and a scrubbing brush. This method is also best for fabrics that become dull in machines.
Use a disinfectant
Pet can carry germs in their fur that can transfer to their beds. You can apply a good quality disinfectant to the bed with a sponge or scrub and then wash afterward. This will kill bacteria and germs.
Hose Water
If the igloo bed is not very dirty, you can place it under a garden hose. Remember, this method will clear the dirt and mud but not germs.
Do igloo dog houses stay cool in the summer?
Like human igloos, dog igloo beds are ideal for winters to keep the fur baby warm. However, not many people know that they also keep dogs cool in the summer.
Their walls are made with such compressed, insulating materials that keep the pet warm in winter and cool in summer. Thus, they are ideal for all weather. Remember, choose the beds made with such materials.
Take away
There are many types of beds for dogs, but if you want the best return for money, igloo dog beds are our choice. They come in various shapes and sizes. Plus, these are weather-friendly and can be used throughout the years. However, remember to choose beds with insulating materials that you can find at My Doggo Store . They have the best Pet Bed Igloo for all breeds.
Apart from this, if you want to know about All about French bulldog breeder: then please visit our Pets category