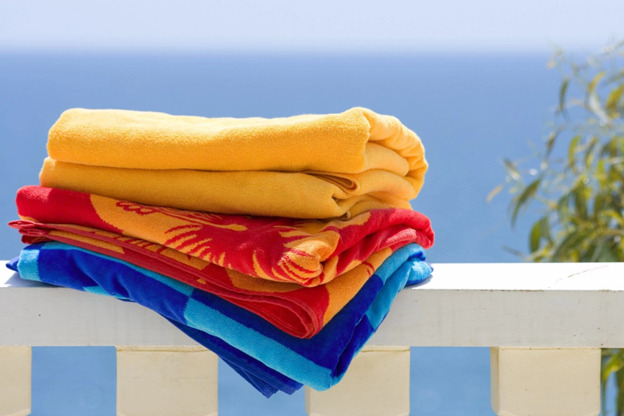 Last Updated on March 4, 2023 by admin
Pool towels are essential for everyone, whether you're a competitive swimmer or just love taking a leisurely dip in the pool with your family. It's important to have the best towel available when you're drying off after a casual swim. It is especially important to be prepared to take children to the pool.
Swimming is a sport that requires a lot of effort, and towels are an integral part of that process. It is important to keep the body at a comfortable temperature by staying dry. There is a chance that your body will lose heat when it is wet, which can lead to fatigue and have an adverse effect on your performance.
This article aims to guide you to the best pool towels available in different sizes, colors, and materials to help you select the most suitable one for your hotel. We also give tips on caring for your new towel and what to look for when buying it.
Pool Towels
When a person leaves a swimming pool or lake, they are usually given enough towels to cover them completely as they leave the area. Pool towels are often kept near the pool in hotels, and since they are frequently used, they must be easy to maintain. Because they have to be highly absorbent, they are usually very thick and fluffy in texture. Furthermore, the towels must also be large enough to spread out on the sun shade or the sun chair so the guests can get plenty of sun exposure.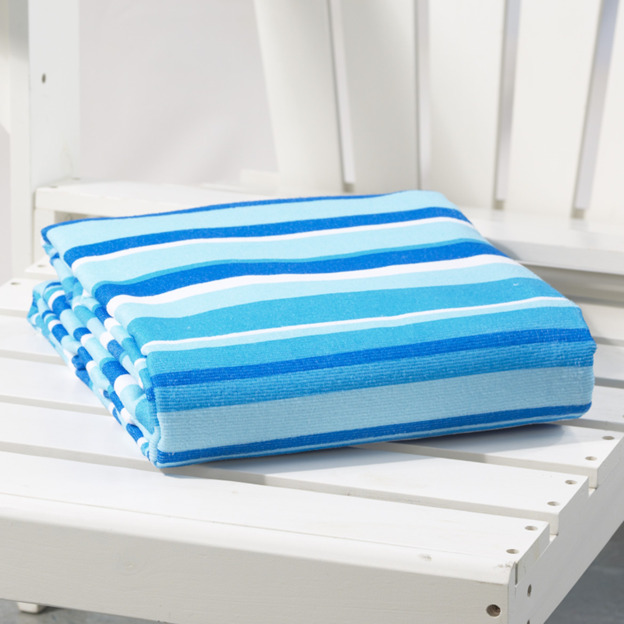 Why Are They Important?
An essential aspect of providing your guests an excellent swimming pool experience is providing them with quality pool towels. Most of the time, guests traveling do not have towels that are so large because most hotels offer this amenity as part of the service to their guests. As a result, if you do not provide them, you will negatively reflect on your hotel's image and guests' experience. Furthermore, guests can use pool towels in spa baths and saunas near the pool.
Now that warm weather is on its way, it's a perfect time to assess whether you need new pool towels to fit your needs. If your facility has a pool, beach, or waterpark, pool and beach towels will enhance your guests' experience. It is also important to remember that they affect everything from storage space to laundry times. Because of this, you need to think carefully before deciding which towels you should buy.
The following is a list of nine factors to consider when choosing a pool towel for your hotel or resort.
What to Look for in Pool Towels
Whether you're looking for possible things to buy for your new pool or you're looking for something to improve your current pool, you've come to the right place. Hotel guests can enjoy a pool as one of the amenities available to them as part of their stay at the hotel. It's quite challenging to pick out the right pool towels as these fabrics will come into direct contact with your guests regularly. Therefore, you must ensure that even with something as seemingly simple as a pool towel, you are providing a premium experience to your customers.
The process of shopping for pool towels may seem straightforward. You no longer need to worry about that because we're here to help you. Ultimately, it's all just fabric. Choosing suitable towels for your guests is difficult because there are many types and categories of fabric. A hotel's fabric quality says a lot about its appearance and the colors of much of the experience that your guests may have. So when making your selection, you should be mindful of several factors that pertain to the quality of the fabric.
We know what pool towels are and why they're important because we've discussed what they're for. However, now that we've covered what pool towels are, we can discuss what you need to look for in towels to ensure that the ones you purchase match your hotel's image and meet the needs of your guests.
Size
There is no doubt that these towels are bigger than ordinary towels, as we mentioned before. Typically, pool towels are sized from 30″ x 60″ by the manufacturer; however, they can be much larger or smaller, so you might want to have a variety of larger and smaller towels to give your guests various options to suit their preferences.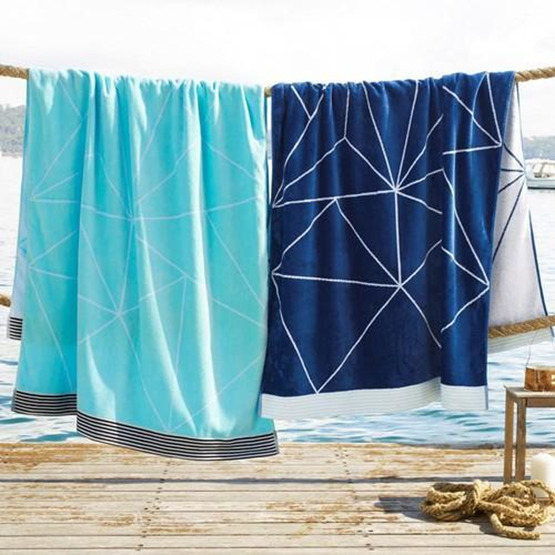 Fabric
This is one of the most important attributes you should look for when looking for a company. Most hotels prefer 100% cotton towels for their pool towels because they are very soft and absorbent. If that's not a budget-friendly option, you might consider a cotton blend fabric like terry cloth, which is also very absorbent and a cotton blend fabric. There are also synthetic fabrics that can be used, such as a microfiber towel, which is very soft and very absorbent.
Softness
You must ensure that the pool towels you stock up on are soft. After a chlorine-filled dip, the last thing that the guests will want is an abrasive, rough material that will scratch their skin. Therefore, it is recommended that you choose a soft material, like cotton or terry.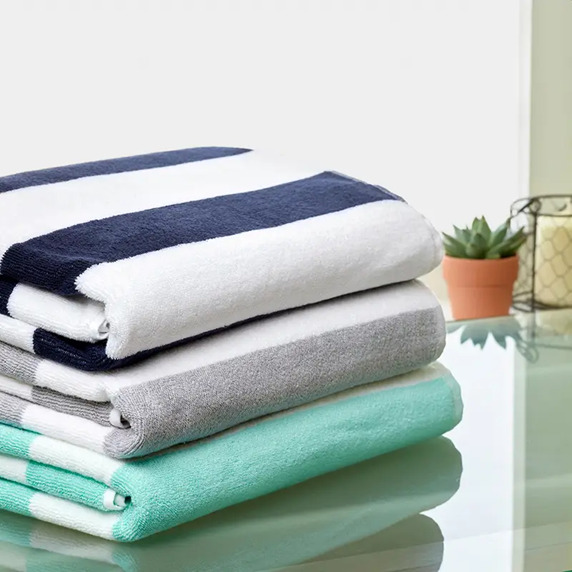 Thickness
It is true that bath towels, specifically those used near the pool, need to be fluffy to provide warmth and absorbency while also providing comfort for the user. They should be thick enough to be handled easily and stored in a small space while providing comfort and ease of storage.
Absorbency
As the name suggests, the purpose of a towel is to dry off guests after they have been wet after a bath or shower. It would not be very functional if this purpose could not be achieved, so what is the point of having it? For your guests' comfort, you also need to ensure that the towels you choose do not leave any sheens of water on their bodies to ensure that the towels you use are as functional as possible.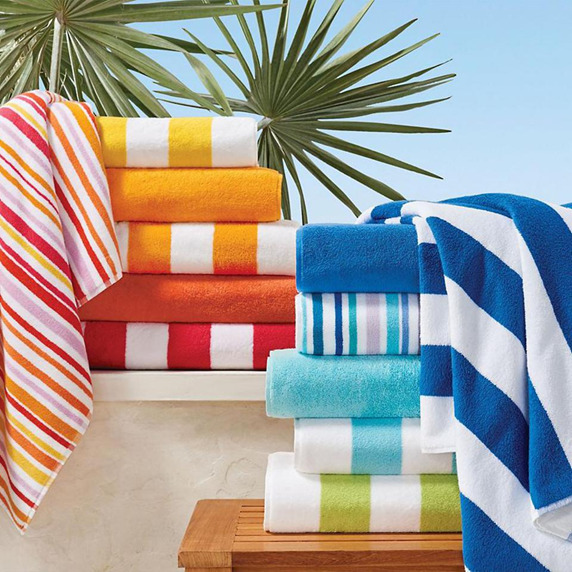 Aesthetics
A pool towel is essential to having fun in the water and should reflect that fun and the fun you will have. Aside from functionality, aesthetics are essential when telling your guests that you care about their experience and you have taken the time to make it a memorable one for them. You can choose from many pool towels since they come in various colors and patterns, so you should have as many types as possible.
It is recommended, however, that you use a white towel if you are using towels in a spa bath. As you will want to keep the space looking serene and zen-like, as patterns and colors may disrupt the zen effect.
Price
Towels used for swimming go through a lot of wear and tear. As they are used so frequently. The habit of replacing them every few months and purchasing a new collection is a good one to develop even if they don't. To ensure that the overall price remains cost-effective. We recommend purchasing from a wholesale retailer and getting the best price possible. There is no point in investing too much in pool towels since they aren't healthy, and chlorine may damage the towels.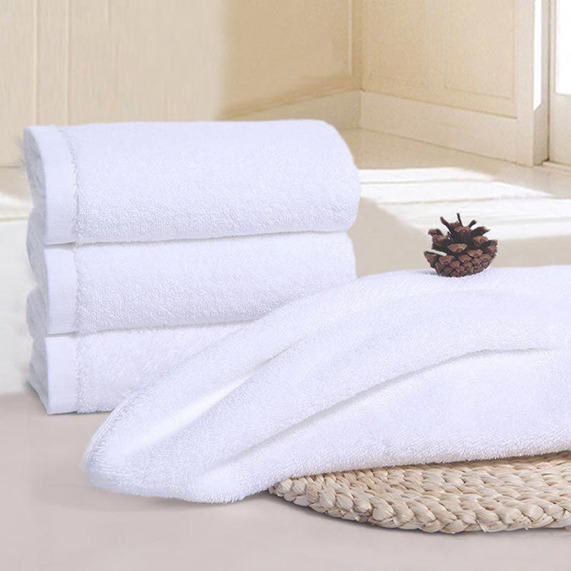 Maintenance
Because many people use pool towels regularly, washing and maintaining them is essential. The towels should be of a size and thickness. That can be effectively washed, and you should have these facilities on-site. The purchase of such an appliance might need to be re-considered. If it consumes too much electricity or power.
Distinction
If you have a pool or spa near your hotel room, ensure that the towels you use near these areas are vastly different from those in your hotel room. Your housekeeping and pool maintenance employees may have to be trained and educated for this purpose for the hotel to be compliant. Nevertheless, you must do so, as each of the towels in your hotel has a different purpose. Losing track of each of the towels' purposes may give the impression that your hotel cannot manage and organize effectively.
Towel Care: How to Take Care of Your Pool Towels
If you do not take good care of your pool towels, they will not last very long. Putting your pool towels in the washing machine and drying them after you have been to the pool is the easiest way to keep them clean between trips to the pool. It would be best if you didn't put them soaking wet in your swim bag and return to them days later when the bag has dried. You will save a lot of energy and time by doing this.
You may need to use your towel multiple times at the pool, so make sure you lay it out before using it. It is best to lay them on a fence or over the back of a chair. If you cannot lay them on a table. It is even more beneficial if you can place your towel outside in the sun so that it will dry even faster. You must read the care instructions carefully before washing your clothes. It is essential to follow these instructions carefully. So that your towels and other laundry will not get damaged if you don't.
Final Thoughts
Whether swimming laps in the pool, spending the day with your family, or anything else. Having the right pool towel will enhance your pool experience. There are a variety of sizes and colors available when it comes to pool towels. There is also a wide range of materials that are available for them.
Several factors can determine the types of pool towels you need to invest in. However, you need to think about the customers. How you can enhance their experience to understand what kind of towels you should invest in. To obtain the best quality pool towels. You can order with Beyond Bridges USA, the leading supplier, and distributor of hospitality and housekeeping products in the United States. This is no easy feat, but if you can accomplish it. They will likely tell their friends about their great experience. You will be able to expand your clientele.
You May Also Like: 5 Fun Ways To Get Around On Your Next Vacation