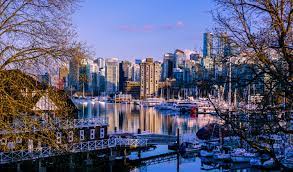 Last Updated on March 20, 2023 by admin
The city's temperature, breathtaking scenery, and thriving economy have made it a popular choice for newcomers for decades. Vancouver is a seaside city on the coast. It is flanked to the south and east by extensive suburbs and has a highly populated downtown center. The Metro Vancouver area is home to almost 2.5 million people, making it Western Canada's largest metropolitan area. This covers Burnaby, Richmond, Surrey, and the surrounding suburbs.
Vancouver
Vancouver is consistently ranked among the top five cities globally for 'livability' and quality of life, and newcomers frequently praise the city's many amenities and natural beauty. In Vancouver, fans of the great outdoors will feel right at home. On three sides, the downtown peninsula is surrounded by water. Parks abound in the city, hiking opportunities abound, and world-renowned ski and snowboarding destinations are only a short drive away.
How to move to Vancouver?
Those wishing to relocate to Vancouver have a variety of immigration possibilities. There are temporary work permits available for short-term migrations that allow new residents to live and work in Vancouver for a limited time. A Working Holiday Visa in Canada is available to young residents from over 30 countries participating in International Experience Canada. If local workers cannot fill a vacancy, a Labor Market Impact Assessment (LMIA) can be requested, and a work permit is given.
Like almost any other Canadian city, living in Vancouver has its advantages and disadvantages. There's little doubt that relocating to Vancouver is a decision that should be taken slowly, and it pays to do as much research as possible. We enlisted the help of Vancouverite Jill Von Sprecken to give you the inside scoop on a few things you should know to help you decide whether moving to Vancouver is the right decision for you.
Is it a wise decision to relocate to Vancouver?
Even though moving is never simple, Vancouver is ultimately rewarding. Expats are aware of this city's many amenities. Nature is abundant; there are plenty of employment, diverse and exciting neighborhoods, delicious food, and upper health care and education.
Finding a place to live may be a hurdle.
Vancouver has some of the lowest rental vacancy rates in the country, but it also has some of the highest house costs. When looking for a decent rental, be ready to do your homework. Craigslist and strolling around neighborhoods looking for vacancy signs are fantastic places to start.
Transportation
The Sea Bus and Sky Train fast transit lines are part of the local public transportation system, and most neighborhoods are pretty walkable. Do you own a car? Become a member of a car-sharing service, such as Evo. Buy a bicycle (all your future friends will have one) or join the Mobi bike-share program to immerse yourself in the local culture truly.
The rain doesn't slow Vancouverites down.
The annual precipitation averages 44 inches (less than Miami or New Orleans, by the way), making it a damp but lovely location to live. Summers provide a pleasant break from the cold. However, for October to April, be sure to purchase an umbrella and boots.
Read More: Each And Everything You Need To Know About San Diego Cost Of Living
Drug addiction, mental illness, and poverty are shared in "Canada's worst postal code." If you're afraid of these kinds of encounters, stay away or bring a friend until you're confident in navigating the region on your own. But bear in mind that the DTES isn't all bad: it's a historic and close-knit neighborhood that's also the epicenter of social activity.
Vancouver has a reputation for being unfriendly.
According to a recent study, about a quarter of Vancouver residents is socially isolated. Join a group or sports team, take a class, or volunteer to meet new people in your neighborhood.
Health
Vancouverites eat healthily, work out for fun, and wear yoga pants to keep their backsides looking good. Take a stroll or a bike along the seawall, go hiking on the North Shore, or take a yoga class to become involved. Then stop by one of the numerous vegetarian or vegan eateries in town for a bite to eat.
Food
The city's surge of newcomers and closeness to the Pacific (and its richness of seafood) have resulted in some of the best Asian cuisines in the world. You've got yourself a fantastic combo when you combine it with the local craft beer revival.
Mountains
Even if you don't want to climb mountains or hike trails, the seawall, beaches, and parks are popular gathering spots for many Vancouver residents. Accept the West Coast way of life, and you'll soon be doing yoga on the beach with the locals.
Do you see the peaks? You're standing in the direction of the North Pole. Also, keep in mind that the West End is a neighborhood in downtown Vancouver; the West Side stretches from Kitsilano to UBC; West Vancouver (West Van) is a city on the North Shore; and New West, or New Westminster, is a city 30 minutes east. And Vancouver Island isn't even in Vancouver; it's a two-hour boat voyage away and home to Victoria, British Columbia's capital city.
New city vibe
While Vancouver lacks the old structures of Rome or the vast cultural corridors of Paris or Madrid, it does have a youthful, optimistic mentality in spades. People will try new things here, whether businesses, meals, ideas, or general experiences. And it's a feeling you'll fall in love with.
Living in Vancouver
According to the Global Livability Index, Vancouver is one of the world's most livable cities.
The city is surrounded by stunning natural beauty, including mountains, oceans, forests, and beaches.
Vancouver is diverse, with more than 50% of its residents being foreign-born.
The city has a strong and growing tech industry, with companies such as Microsoft, Amazon, and Hootsuite based in Vancouver.
Vancouver is known for its food scene, with various international cuisine and a thriving local food movement.
The city is home to many cultural attractions, including the Museum of Anthropology, the Vancouver Aquarium, and the Vancouver Symphony Orchestra.
Vancouver has a strong outdoor recreation culture, with plenty of hiking, skiing, snowboarding, and water sports opportunities.
Conclusion
The people of Vancouver are incredibly tolerant of people from all walks of life. It is, in reality, one of the most gay-friendly cities on the planet, featuring one of the world's largest Pride festivities. Vancouver is highly cosmopolitan, with up to 52 percent of the people speaking a language other than English as their first language. The city is dubbed "the most Asian city outside of Asia."
Apart from this, if you are interested to know more about San Diego Cost Of Living then visit our Featured category.
FAQs