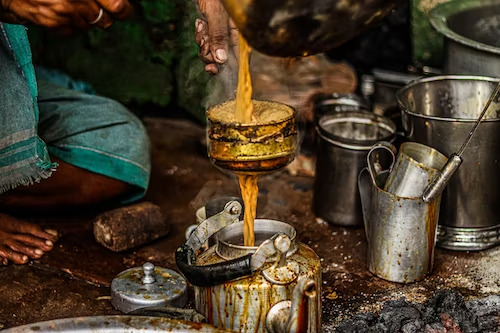 Last Updated on February 18, 2023 by Tabraiz
In Indian households starting the day with the perfect cup of tea is very important. Be it the early mornings while your dad is reading the newspaper or the evenings when it's raining and your grandfather asks you for a cup of tea with some pakoras of course, it all adds up to the making of a flavourful cup of chai.
Tea gives a person peace of mind while working or is a perfect beverage for those late evenings when youre reading your favourite book. The warmth that tea gives your mind and soul is one of a kind and helps you to keep calm and be at peace.
So now to make the perfect cup of chai you need to follow these few easy steps-
What do you need?
Tea leaves
Milk
Water
Saucepan
Sieve
Sugar
Procedure-
Start by adding two cups of water to a saucepan and place it on medium heat on the stove.
Let the water get warm, give it around two minutes.
Then add two teaspoons of tea leaves
Wait for the tea to steep
Now add some milk to it as per your preference
Next wait for the tea to boil and as its colour starts coming, turn off the heat
Strain the tea with the help of the sieve while pouring the tea into the mug
Your perfect chai is ready!
Few tips-
Those who are health conscious can add sugar free instead of raw sugar.
You can add a few pieces of ginger to the tea while making it as it gives an extremely soothing flavour and gives a good taste.
It's important to purchase good quality tea leaves as they bring out the flavour and aroma of the tea. The kangra tea house produces 100% certified organic tea leaves, these enigmatic treasures from The Great Himalayas, offer various flavours as per your taste and mood.
They solely produce whole loose tea leaves and do not use any plastic or organic flavour.Their tea leaves have a genuinely unique, intense, rich and impressive long taste,along with perfectly balanced flavours with highest quality ingredients, meticulously blended to replicate the timeless classic, bouquet of tastes, credited to the pristine valley. Consuming this tea has a whole lot of health benefits as well which a lot of people aren't aware of.
Kangra tea house provides consumers with a wide range of organic tea flavours to choose from along with that each tea has a distinct and special taste plus various health benefits which benefit the consumers. 100% Certified Organic Ginger Mulethi Green Tea – KTH TriniTEA,
100% Certified Organic Authentic Masala Chai – KTH NationaliTEA, 100% Certified Organic Chamomile Mint Rose Green Tea – KTH SereniTEA, these are a few of the next flavours to taste, so go ahead and try these out!
Frequently asked questions
Which tea is consumed the most in india?
Ginger tea and cardamom tea is the most popular tea and is consumed the most in india.
Does tea have health benefits?
Yes, tea has various health benefits. It helps in digestion and boosts one's immune system and metabolism. Some teas also help in weight loss.
Apart from this, if you want to know about Must Visit Famous Gardens in Ooty then please visit our Food category