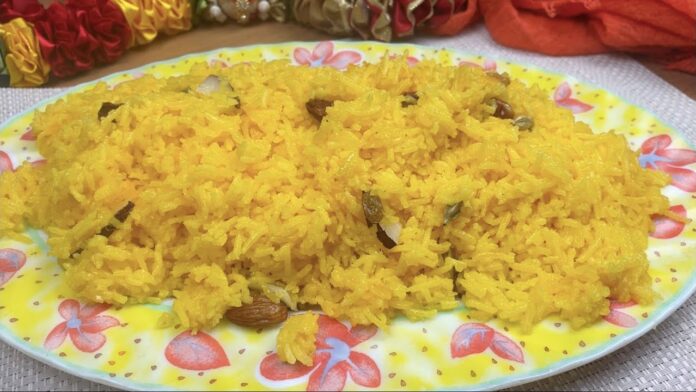 Last Updated on November 26, 2022 by
A traditional dessert in Pakistan is sweet rice. Sweet rice is an essential dish at memorable events like weddings, birthdays, get-togethers, and Eid. We also call it Zarda. Sweet rice is one of the most favorite Pakistani sweets. Rice, sugar, almonds, and cardamom seeds are the main elements of the classic Pakistani sweets known as Zarda.
Ingredients you need to make sweet rice
You need only a few things to make sweet rice, such as;
Cooking oil
Banaspati rice
Sugar syrup
Nuts (optional)
Steps to make sweet rice
Making sweet rice involves only four easy steps.
1. Boil the rice properly
The trickiest part of this recipe is when you boil the rice. So be careful and continue to check the burner frequently. First, parboil the rice. You can add a little yellow food coloring while boiling the rice. This part is optional, but it will enhance the color of Zarda. Saffron can be used to give rice lovely yellow or orange color if you do not want to use food coloring.
2. Make a sugar syrup
You must arrange all the ingredients in a Kitchen space. Move to the next step and prepare sugar syrup. Making the sugar syrup will take some time. Add the milk after the sugar has dissolved in the water and simmer the mixture. The sugar syrup can enter hard candy's realm if it thickens excessively. Therefore, it is better to undercook the rice syrup.
3. Mix the rice perfectly
Once the sugar has melted, add the rice and stir to distribute the sugar syrup coating. Then remove the pot from the burner, and leave it with a pot cover for an additional ten minutes. During rest, the rice will absorb moisture that may still be present in a pot. Put a flat grill underneath the pan to spread the heat. It will protect your rice from burning at the bottom.
4. Add dry fruits to give a beautiful look
You can add dry fruits to sweet rice. Raisins, pistachios, almonds, and cashew nuts are all good additions. After cooking Zarda, some people like to add Khoya and Mewa, which gives the sweet rice a delightful flavor. You can also include sweets adding vibrant Ashrafi, Gulab Jamun, and Ras Gullas.
You can send Pakistani sweets through the Sentiments Express
There are several ways to show your love at different events to your relatives and friends. Sending them Pakistani sweets is one of them. If your close ones are not living in Pakistan, you can still send them Pakistani sweets through the Sentiments Express. They have too many Pakistani sweets options which you can select to send to your overseas friends. They give their services not only in one city of Pakistan, but you can also use them all over Pakistan. If any festival and event is near, send sweets to your loved ones from Sentiments Express. They will deliver fresh and tasty sweets within 24 hours.