Last Updated on November 26, 2022 by Hammad Hassan
If the high ping is causing lags and ruining your gaming experience. Then, read this article providing different fixes to get rid of this issue within minutes.
During online games, the last thing that any gamer wants is to have a high ping speed. The more time you have to wait, the more likely it is that you'll lose the game because of it. Most of the time, your Internet connection is to blame for a slow game.
But there are also other things that affect how fast and how well your internet works. It's not going to happen right away, but there are things you can do to make your broadband faster.
Many people asked the question "Why is my ping so high?" while playing their favorite online games. To have smooth gameplay, it is important to keep your ping level at a normal level.
There can be several reasons behind this issue and in this guide, we are going to find and resolve them. So to maintain your ping, keep reading the different fixes written below.
Different Fixes To Getting Rid Of This Issue
The term ping stands for Package Internet Groper, if you have a high ping you will face lags and glitches while playing games online. And these lags will be the most hated thing by the gamers because they kill your gaming experience. But don't you worry, below you will find some fixes that will help you get rid of this issue.
Fix1: Check Your Internet Speed
If your internet speed isn't very good, it can slow down both your computer and your efficiency to play online games. As we mentioned earlier, if you have ping issues while playing games you will face lags and glitches.
However, every online game has a minimum amount of internet bandwidth that it needs. It doesn't make sense to try to improve something that can never hit the minimum at 100%.
If you want to check your internet speed, you can use a free tool to do so. To get the speed you pay for, contact your ISP (Internet Service Provider) and let them know what is going on.
Read More: https://www.freedriverupdater.com/why-is-my-ping-so-high-all-of-sudden/
Fix2: Use Ethernet Cable Instead Of Wifi
If you don't know how it works, don't worry we are here to help you out. Connect your PC to your router having an Ethernet cable. In the next step, connect one end of the Ethernet cable to the output port of your router. Then, connect the other end of the cable to your PC's Ethernet port.
If you buy a laptop, you usually get an Ethernet port built-in. Nowadays, laptops with slim bodies don't come with an Ethernet port. If you are also in the same situation, then you'll have to put an Ethernet Network Card in your CPU.
Also, most CPUs support Ethernet Network Cards, so adding one should not be a big deal. If you need to place the Ethernet Network Card Driver in your PC, you might also need to get the driver software on a CD that comes with a new piece of hardware.
Fix3: Close Background Applications And Processes
When you play online games, your ping speed can be slowed down due to the websites you have open in your browser and the programs that are running in the background. These background programs and apps take a lot of your computer's resources. Some also use up a lot of internet bandwidth while they are running.
You can shut down all the programs and browsers that you don't need while you play online games, so you can play more quickly. Some programs that aren't important are also running in the background, so you need to take care of them, too. Go to the Task Manager and close them off. To do so follow the steps mentioned below:
Step1: Press Control +Shift + Delete keys simultaneously. Then, select Task Manager.
Step2: On the Task Manager, select the Details tab. Now, click on the apps one by one that are using too much of your computer's resources, and then click on the End task button to close that application.
Note: Do not remove the apps that are run by the SYSTEM. Check the User name option to check whether the app is run by you or by your system. Close apps that you are aware of, for example, Google Chrome, BitTorrent, etc.
Fix 4: Update Network Adapter Driver
If you are still facing the same issue, then you should consider updating your network drivers. Sometimes corrupted, outdated, or incompatible drivers can cause such problems. First, we will tell you how you can update your network driver using the manual method.
Update Network Adapter Driver
To update your network adapter driver you can either go for the manual process where you have to use the Windows built-in tool called Device Manager. Or else, for the automatic process you have to download and install a driver updater software. Here are simple steps to update your driver using Device Manager:
Step1: Press Windows + X key simultaneously and then select Device Manager from the list. You can also search for it in the taskbar's search bar and then press Enter.
Step2: Click on the Arrow in front of the Network Adapter device to expand it
Step3: Now, right-click on the network driver you are using and then select the Update driver option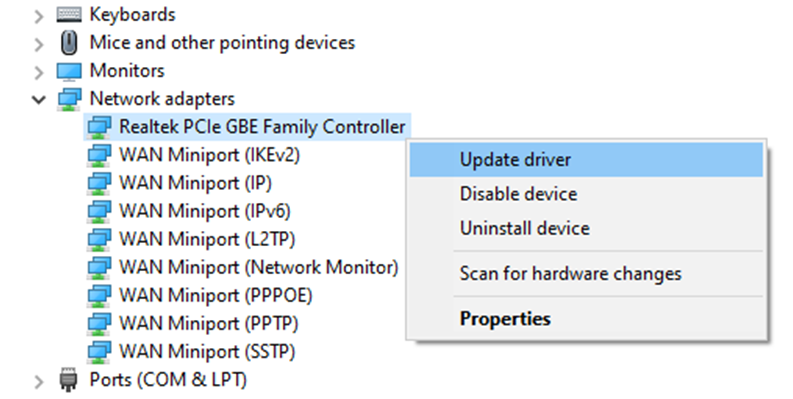 Step4: A new pop-up window will appear, select the "Search automatically for drivers" option on that window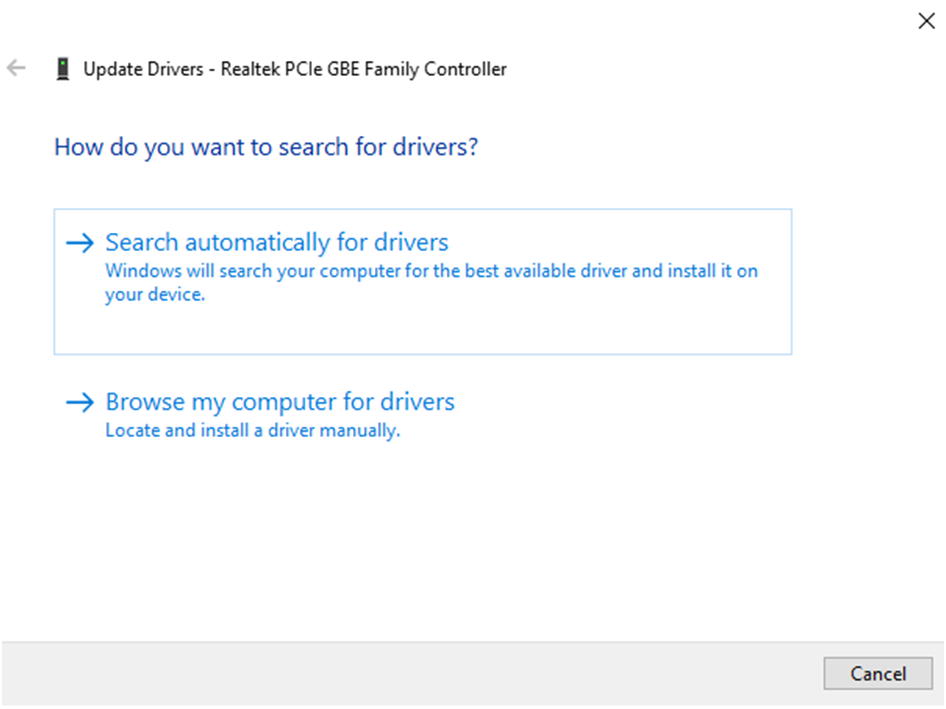 Step5: Now, wait for some time and then Windows will show you some on-screen instructions to complete the process, follow them.
Step6: After completing the process, Restart your computer and launch a game to check if the issue is gone.
You can also do this with the help of third-party driver updater software. These programs not only update your driver automatically but also help in improving your system's efficiency. These programs come with various features that will help your computer in the longer run. We have hand-picked some of the best apps for you:
Bit Driver Updater
Avast Driver Updater
Ashampoo Driver Updater
Driver Easy
High Ping Issue While Playing Online Games Resolved
You can also update your driver by updating your Windows operating system. Also, check that you should be connected to the 5GHz bandwidth instead of 2.4GHz. Keep your system close to the router while playing games to get better internet speed. But if your internet plan is very slow then you have to upgrade it to match the requirements of the game. If you have any queries related to the fixes discussed above, share them in the comment section below.