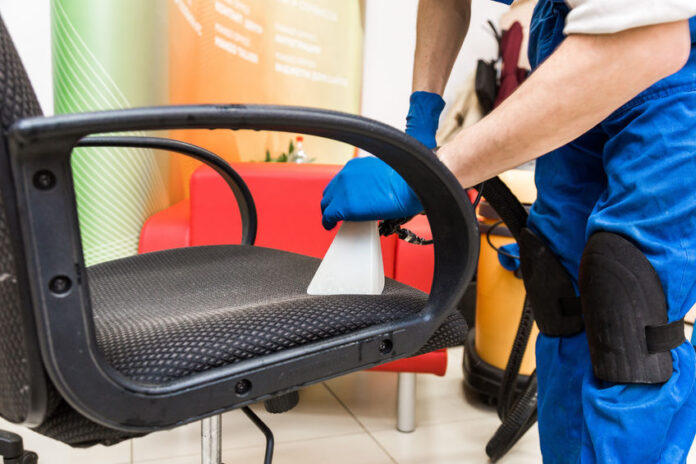 Last Updated on November 26, 2022 by Kate Johnson
Why should your office have its upholstery cleaned regularly? Even if you already have it cleaned once in a while, the fact of the matter is that it could always use another good cleaning. Here are some reasons why your office might need upholstery cleaning service on the regular.
Safety and Comfort
When foams or pads, which no longer cover parts of office chairs, are damaged, seated employees might feel uncomfortable. This could turn into a problem once the employee experiences back or muscle pain as a result of sitting and leaning on damaged office chairs.
Employee Health
In offices with poorly maintained upholstery, dust can accumulate on the seats, which causes skin irritation for those with allergy symptoms or sensitive skin. The amount of dust one has inhaled or come in contact with can cause serious allergic reactions, such as a rash and constant sneezing.
In addition to dust and other allergens, bacteria can accumulate on dirty furniture. Germs can transfer from one person to another or from food, which increases the risk of skin infection in those with compromised immune systems or open wounds. The person sitting in the chair might not even be aware of it—people don't notice what they see day-to-day, especially if they have a habit of picking their nose while working.
Performance Boost
By keeping your office upholstery clean and comfortable, you'll increase the productivity of your office staff. This, in turn, will make them feel more at ease and keep them focused.
Cleaning and servicing your upholstery regularly will increase its lifespan, meaning you won't have to replace it soon. It can also make it feel new again so that you can boost productivity further by making your employees happier with their surroundings.
To cleanse and restore your office furniture, we offer a range of techniques, including steam cleaning and dry foam shampooing. We'll also handle any repairs needed or remove stains or spills. Call in professional experts today!
Overall office attractiveness
All your furniture needs to be maintained. If it is pleasing to the eye, this can have a positive effect on not only your staff but also your visitors, guests, and customers. For example, a neat office with polished furniture can showcase your company's or organization's respectability.
How offices are kept can have a big impact on employee satisfaction. If staff members can come into an attractive and well-kept environment every day, it can make them feel as though they're valued, cared for, and working for a successful organization. Clean furniture helps create a pleasing atmosphere that reflects well on your business or organization.
Money Saving
In general, cleaning office upholstery will lead to reduced expenditures for your company. Whether you hire professional help or clean the furniture yourself, it will be more economical than periodically replacing the upholstery. High-quality upholstery, which may require periodic maintenance and cleaning, is less expensive than cheap furniture, which must be replaced every year.
Conclusion
If you have a business, then you need to make sure that your office is clean. This means hiring a professional upholstery cleaning service. Your employees will be more productive in a clean environment, and clients will be impressed with the cleanliness of your office. Upholstery cleaning will also remove dust and allergens from the air, creating a healthier workplace. Don't wait any longer, contact a professional upholstery cleaning service today!