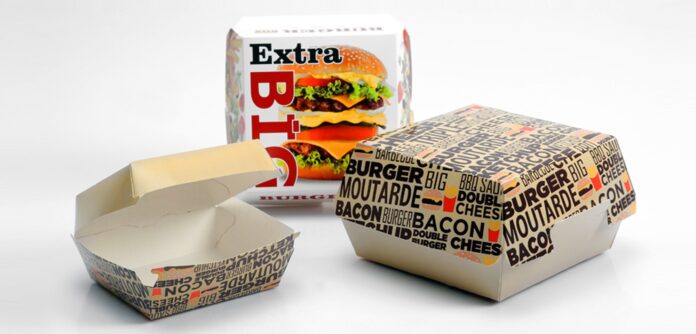 Last Updated on January 21, 2023 by Tabraiz
Custom packaging of food products proves very useful. Our custom burger boxes can be beneficial in various ways:
Firstly, custom boxes with catchy and amazing designs attract buyers in large numbers.
Secondly, customized packaging of boxes keeps your burgers warm and fresh for an extended time.
Thirdly, cardboard-printed burger boxes protect food items from external harm like contamination, moisture, heat, etc.
Fourthly, custom boxes printed with a logo have a remarkable impact on buyers and assist in gaining clients' trust.
Surpass your Competitors with First Class Printing of Custom Boxes:
Today, it becomes challenging to stand out the food products from the crowd. So, you can beat your competitors with printing designs. We utilize first-rate innovative printing machines to manufacture custom printed burger boxes. To prepare prints, we employ offset and digital printing procedures. Both of these printing methods produce accurate and reliable results.
Make your Custom Burger Boxes Aesthetically Appealing with CMYK and PMS Color Model:
Every customer long for appealing packaging for their custom boxes. Consumers choose a box by the stunning prints on the box packaging. We utilize CMYK and PMS color models. PMS is an expensive color scheme offering unlimited color shades. In contrast, CMYK is a four-color printing procedure and costs less than PMS.
Be Ecologically Friendly with Our Kraft and Cardboard Wholesale Burger Boxes:
You are a naturally caring person looking for eco-friendly packaging for a safe environment. You can turn back to nature with our wholesale kraft and cardboard burger boxes. Kraft stock is 100% biodegradable and safe for surroundings. You can recycle the material of burger packaging and use it again in the future.
On the other hand, we have cardboard in printed material. Cardboard stock is durable and helps in the protection of food products. It keeps burgers safe from any type of external damage during transit.
Create Magnificent Packaging with Extraordinary Coatings:
We apply various coating solutions to craft durable and secure packaging. Our coating's options involve:
matte finish
gloss finish
aqueous coating
spot UV
Captivate The Attention of Clients with Stunning Embellishments:
Extensive add-ons and finishing options are applied to make your printed burger boxes wholesale more intriguing and enticing.
We use inserts and handles to carry boxes conveniently. The use of embossing and debossing gives a three-dimensional effect and enhance the intensity of colors. Windows cut-outs and die-cuts are added to make products visually appealing. Besides this, we also use foil stamping in silver and gold colors to give a gorgeous appearance to packaging.
Get Discount Offers on Bulk Orders:
Suppose you are running a brand and worry about the expanses of custom packaging. We are here to solve your budget issues. Our company offers special discount offers on large quantity orders. So, order in bulk and get customized packaging by saving a great amount.
Avail of Our Free Shipping Facility:
You can get the order to your doorstep without paying any penny. Urgent Boxes offers free transit services throughout the USA.
Free of Cost Design Guidance and Support of Professional Designers:
Are you a newcomer to a food brand and worried about the design of custom food boxes? If your answer is yes. Then don't get worried and stay calm. We at Urgent Boxes give free guidance and support to our clients. Our customer service team stays connected with the clients throughout the manufacturing process.
Urgent Boxes: A Leading Packaging Provider
The provision of outstanding customer satisfactory services makes us the only packaging choice for our customers. These are one of the key elements of our company's services:
free and immediate quote
shortest turnaround time
no plates and die cut charges
3D physical samples
free cost design samples
competitive costs
free transit service
custom designs and prints