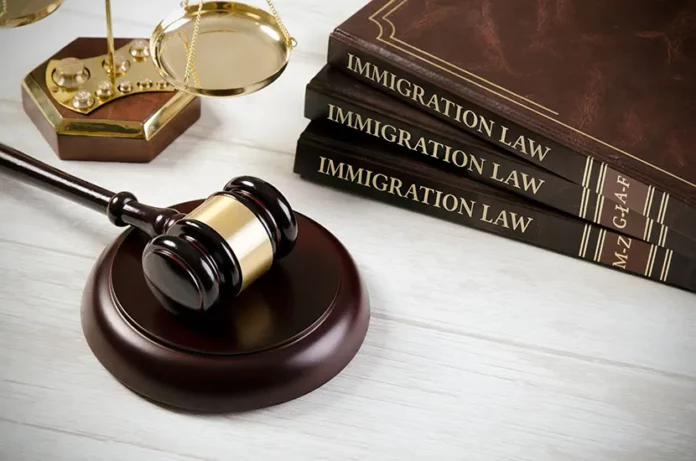 Last Updated on February 6, 2023 by hassan abbas
Immigration lawyers are experts in the field of immigration law. They can provide you with the knowledge and expertise you need to navigate the often-complex process of immigrating to the United States.
They understand the complex laws and regulations that govern immigration and can help their clients navigate the system. They also deeply understand immigrants' rights and can fight for their clients in court. Immigration lawyers are essential in ensuring that immigrants can stay in the United States and their rights are protected.
Here are six issues an immigration lawyer can help you with.
Applying for a Visa
Many different types of visas are available, each with its own requirements. An immigration lawyer can help you determine which type of visa is best for your situation and guide you through the application process.
Applying for a visa can be a complex and daunting process. Still, an experienced immigration lawyer can help to ensure that your application is completed correctly and submitted promptly. The first step is gathering all required documentation, which may include proof of employment, financial stability, and ties to your home country.
Once you have gathered all the necessary paperwork, your lawyer will review it to ensure everything is in order. They will also help you complete the application form and guide you on what supporting documents you should submit. Once your application is ready, your lawyer will submit it to the appropriate embassy or consulate.
They will also contact the embassy on your behalf if there are any issues with your application or if additional information is required. Working with an immigration lawyer can increase your chances of success in applying for a visa.
Adjusting Your Status
If you are already in the United States on a temporary visa, an immigration lawyer can help you adjust your status to stay permanently. This is a complex process, and a lawyer can help ensure that all the necessary paperwork is filed promptly.
You'll need to meet several requirements to adjust your status:
You'll need to have been admitted into the United States with a valid visa.
You'll need to be eligible for permanent residence.
You'll need to go through the necessary steps to obtain a green card.
The process of adjusting your status can vary depending on your situation. However, there are a few general steps that you'll typically need to follow:
You'll need to apply with the U.S. Citizenship and Immigration Services (USCIS).
You'll attend an interview with USCIS officials.
You'll receive a decision from USCIS on your application.
If you're looking to adjust your status and become a permanent resident of the United States, it's important to have an experienced immigration lawyer by your side. With the help of a lawyer, you can ensure that you meet all the requirements and take all the necessary steps to successfully adjust your status and obtain a green card.
Green Card Applications
A green card grants you permanent legal residence in the United States. If you want to apply for a green card, an immigration lawyer can help you with the lengthy and complicated application process.
There are four general categories: family-based, employment-based, refugee or asylee status, and the diversity visa lottery. After determining which category you fit into, you must gather the required documents. This can include birth certificates, passport photos, marriage certificates, and more.
Once you have all the required documents, you must complete the proper forms and submit them to the USCIS. If everything is in order, you will be scheduled for an interview. The interview is your chance to show that you are eligible for a green card. You will need to demonstrate your knowledge of English, U.S. history, government, and ties to your home country. If approved, you will receive your green card in the mail.
Citizenship Applications
If you want to become a U.S. citizen, an immigration lawyer can help you with the naturalization process. A lawyer can also help if you want to renounce your citizenship or if you have lost your U.S. passport abroad. Citizenship applications require documentation of your identity, residency, and good moral character. You will also need to take civics and English language tests.
An immigration lawyer can help you understand the requirements and ensure you have all the necessary documentation. In addition, an immigration lawyer can represent you in front of the citizenship board if there are any questions about your application. Choosing an experienced immigration lawyer to help with your citizenship application can give you the best chance of success.
Employment Authorization Documents (EADs)
EADs are one of the most important tools for immigrants in the United States. Without an EAD, immigrants cannot work legally in the United States. An EAD is also required for many other benefits, such as applying for a driver's license or a Social Security number.
Immigration lawyers help immigrants obtain EADs through various methods, including filing for an adjustment of status or asylum. In addition, immigration lawyers can help immigrants to renew their EADs and to troubleshoot problems with their EADs. As a result, immigration lawyers play an essential role in helping immigrants to live and work in the United States.
Family-Based Immigration
Most people who immigrate to the United States do so because they have family members who are already citizens or legal residents. An immigration lawyer can help facilitate this process by filing the necessary paperwork and representing you in interviews with USCIS officers if needed.
Conclusion
These are just some ways an immigration lawyer can help you navigate the complex world of U.S. immigration law. If you need assistance, don't hesitate to reach out to a qualified attorney for help!
Let us help you
If you are looking for help with immigration, please contact Ruby Powers Law. We have years of experience assisting immigrants with all applications, and we can help you get the outcome you deserve. Contact us today for a free consultation!
Apart from this, if you are interested to know more about type of visa is a BNO visa then visit our Law category