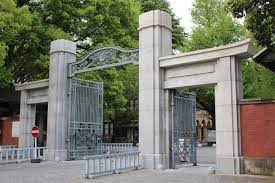 Last Updated on February 18, 2023 by Tabraiz
Custom gates and doors are a great way to express your personality and style. Here are some ideas on customizing your exterior home design with the perfect gate or door!
Custom Gates and Doors
If you're looking for a unique and stylish way to add some extra security to your home, consider custom gates and doors. There are lots of great ideas out there for customizing these essential home features, and with a little creativity you can come up with a look that's both stylish and functional.

One popular option is to install gates that open automatically when you approach them. This is a great way to add an extra layer of security to your home without making it too difficult to get in and out. You can also find automatic gates that come with built-in security features like cameras and alarms, which can give you peace of mind knowing that your home is well protected. Another great idea is to add decorative elements to your gates and doors.

This can be anything from simple wrought iron details to more elaborate designs. Adding some personality to your entryway can really make it stand out, and it's a great way to show off your unique style. If you're looking for even more security, consider adding reinforced glass or metal panels to your doors.

This will make it much more difficult for intruders to break through, and it can also help deter would-be thieves from even trying. Whatever security features you choose
What are the Benefits of Custom Gates?
There are many benefits to custom gates, especially when it comes to the security of your home. By having a custom gate installed, you can be sure that your home is well-protected from intruders. In addition, custom gates can also provide a great level of privacy for your family.

If you have young children, a custom gate can keep them safe from strangers and other dangers. Another benefit of custom gates is that they can add value to your home. If you ever decide to sell your property, potential buyers will be impressed by the fact that you have taken the time and effort to install a custom gate.

This can give your home an edge over other properties on the market. If you are looking for a way to improve the security and privacy of your home, then consider investing in a custom gate. With so many benefits, it is easy to see why custom gates are such a popular choice among homeowners.
Types of Custom Gates
There are all sorts of different types of custom gates that can be made to suit any need or taste. From simple and functional designs to more elaborate and decorative ones, there is sure to be a style of gate that will suit your needs. Here are just a few of the different types of custom gates that can be made: -Sliding Gates: Sliding gates are a great option for those who want a gate that is easy to open and close.

They can be made from a variety of materials, including wood, metal, or even glass, and can be decorated with any type of design or finish. -Swinging Gates: Swinging gates are another popular option, and can be made to swing in either direction. They can also be made from a variety of materials and finished with any type of design. -Driveway Gates: Driveway gates are a must-have for any home with a driveway.

They can be made from a variety of materials, including wood, iron, or steel, and can be designed to match the look of your home. -Garden Gates: Garden gates are a great way to add some security and privacy to your garden or backyard. They can be made
How to Design a Custom Gate or Door
When it comes to adding a personal touch to your home, there's no better way to do it than with a custom gate or door. But if you've never designed one before, where do you start? Here are a few things to keep in mind when designing your custom gate or door:

1. Functionality First and foremost, your gate or door needs to be functional. That means considering things like how it will open (manually or automatically), what kind of weather it needs to withstand, and if it needs to be secure.

2. Aesthetics Of course, you also want your gate or door to look good! When choosing materials and finishes, think about how they will complement the rest of your home's exterior. And don't forget about the hardware – this is an opportunity to really make a statement.

3. Budget Custom gates and doors can be costly, so it's important to set a budget before you start the design process. This will help you narrow down your options and make sure you don't overspend.

4. Timeline Keep in mind that custom gates and
Tips for Garage Doors
1. Make sure you measure the garage door opening before ordering a door.

2. Order a door that is slightly larger than the opening to allow for easy installation and trimming.

3. Choose a door style that compliments the look of your home.

4. If you are looking for added security, consider a door with a steel core.

5. Insulate your garage door to help keep the temperature in your garage consistent year-round.
Apart from this, if you want to know about Ways to Finding the Best Amazon Seller Tool Online then please visit our Home Improvement cstegory